Gingerbread Cookies

The gingerbread cookie recipe is great to have around during the holidays!  This recipe is easy to make.  You can make them a little softer or nice and crunchy depending on your tastes.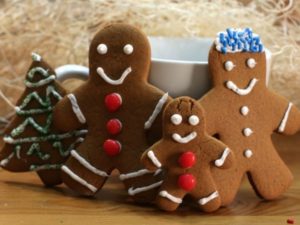 You can decorate the gingerbread cookies or leave them completely plain.  Get creative with the cookies!
Recipe
3 Cups all purpose flour                  ¼ tsp ground cloves
1 ½ tsp baking powder                    6 tbsp softened unsalted butter
¾ tsp of baking soda                       ¾ cup dark brown sugar
½ tsp of salt                                      1 large egg
1 tbsp of ground ginger                   ½ cup molasses
2 tsp ground cinnamon                   2 tsp vanilla extract
 Instructions
Add softened butter to a large bowl, then add brown sugar, mix until well combined
Add vanilla extract and egg.  Blend well until combined.
Add molasses and mix until combined.
Add dry ingredients to the flour and mix well with a whisk.
Add flour mixture little by little.  The dough gets pretty thick.
Knead the dough a bit on the table until it all comes together.  Cut the dough in half and form each half into a disc.  Wrap it with plastic wrap and refrigerate for at least 2 hours up to 8 hours.
Take the dough and divide each disc again in half.  Use flour on your work surface and on your rolling pin to keep dough from sticking.
Roll it out until it is 1/4 of an inch thick or thicker if you want them softer.  Use your favourite cookie cutter shapes and cut them out.
Once you have a cookie sheet pan filled up, bake at 375F for 7 to 10 minutes.  The longer you bake them, the more crunchy they will get.
Once they come out of the oven, let them sit for a few minutes before transferring them to a cookie rack.
Now let's decorate!
You can use a piping bag with frosting, writing gel or any number of decorating items!  You can also make your own frosting!
Add to the fun of your gingerbread cookie decorating by parking a gingerbread camper by your gingerbread house!  It's a fun add on to your Christmas dessert table!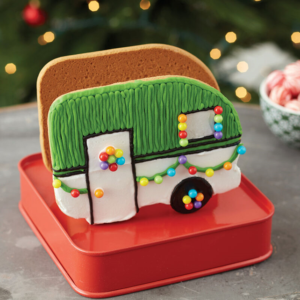 Camper – use spatula and white icing to ice bottom side of camper, door and window.  Pat smooth.  Use green icing to pipe lines on top half of camper.
Use black icing to outline window, door and trim at middle section of camper side.  Attach candy for doorknob, wreath and around window.  Use green icing to pipe garland on sides.  Attach candy.
Use black icing to pipe in wheel.  Attach candy to centre of wheel.
Repeat to decorate other side of camper, omitting the door.
Now time to eat them!
Some may be crunchy and hard, some may be softer, they will all be good!  Dip them in milk or hot chocolate and ENJOY!