Recipes for your Thanksgiving Camping Weekend!
Are you looking for a perfect no-mess camping meal for Thanksgiving?  When you are cooking at a campsite this is one of the easiest ways to get that big Thanksgiving flavour without doing all of that prep-work!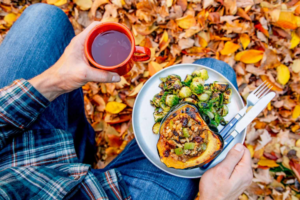 Campfire Roasted Stuffed Squash
This recipe is easily scalable to serve large or small camping groups.  Combining all the classic Thanksgiving flavours into one is the perfect no-mess camping meal for Thanksgiving!
Roast the Squash halves on a grill over the open fire, cut side up for 30 minutes then flip the squash so the cut side is facing down for an additional 15 minutes.
Prepare the Stuffing in a cast iron skillet with onions, celery, crumbled sausage and stale bread.
Assemble by carefully unwrapping the squash from the foil.  Scoop half of the stuffing mixture into the cavity of each squash half.  Serve & Enjoy!
Ingredients:
1 Squash
2 teaspoon olive oil
½ teaspoon salt
Stuffing:
1 tablespoon olive oil
1 onion, diced
10 ounces turkey sausage or ground turkey
2 celery stalks
1 teaspoon salt
3 cups prepared stuffing
¼ cup pecans, chopped
1/4 cup dried cranberries
__________________________________________________________________________________________________
How to Make Campfire Mulled Wine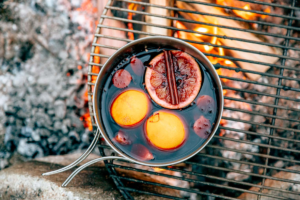 This spiced red wine cocktail is the perfect cocktail to try while doing some late-season camping!  A camping mug of mulled red wine is all we need to keep warm.
It doesn't take much to make:  a bottle (or two) of red wine, some oranges, cloves, cinnamon sticks, ginger and a few drizzles of maple syrup.  Simmer in a big pot over low heat until all flavours start to blend together.  When it's ready, it tastes like warm, liquid comfort in a mug.
This cocktail can be made over any heat source; a two-burner camp stove, an open campfire or on top of a wood burning stove.
Mulled wine is perfect for large groups.  Just fill up a big pot and let it simmer away.  The longer the ingredients have to simmer together, the most robust and complex the flavour!
Ingredients
750ml bottle red wine
¼ cup maple syrup
3 whole cinnamon sticks
2 inch piece ginger, sliced
1 tablespoon whole cloves
2 oranges, cut in half
Combine the wine, maple syrup and spices in a pot.  Squeeze the juice from the oranges into the wine and then add the spent peels to the pot.  Simmer over medium-low heat at least 30 minutes to allow all the flavours to meld.  Split between glasses & enjoy!